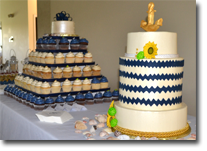 At Dolcery Desserts we make all Dream Birthday Cakes and Wedding Cakes a Delicious Reality. Order your very own moist cake covered with fluffy butter cream for that special occasion or just because you want to delightfully indulge in one of our scrumptious handcraft cakes. We even have gluten-free cakes.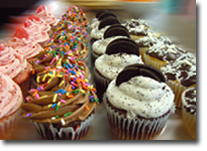 Cupcakes and desserts heaven!  If you have not been to Heaven yet… You're not far away from it. Contact Dolcery Desserts and enjoy one of your very own Cupcakes scratch made topped with deliciously creative options. We offer gourmet cupcakes, healthy desserts, gluten-free cakes, diabetic dessert options and more.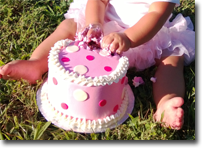 Ordering from Dolcery Desserts has never been easier.  You have the option of filling out the online form, downloading the form then fax it or email it to us, call us, or messaging us via our social media accounts to begin your order process. Let's get your delicious desserts and simplify your wedding planning and birthday planning process!
Get Yours Today!
Order your dream cake today.  We'll make it a reality.

"Best cake you will ever eat, made by the nicest people! Worth every penny. I can't recommend them highly enough!"
Andrea Candea-Carroll – 5 Stars


"I love this company because they work with buttercream icing and they make it look like fondant, only it tastes a lot better."

"So wonderful! great service and amazing product! so glad you are still around!"
Karen Judson Stogbuchner – 5 Stars


"Did an amazing job on my 3-tier wedding cake.. All of the guests complimented it and said how it was the best wedding cake they'd ever tasted. It was beautiful and delicious! Only reason I didn't rate 5 stars is because it was A tad expensive ($900) but quality was definitely there and customer service was amazing!"
Marissa Andrick – 4 Stars

"Wonderful gluten-free products! And the strawberry frosting is soooo good."

"Good but very expensive."
Michelle Greenfield – 3 Stars

"We did a cupcake tree for our cake. We had soooo many different flavors (beyond 10 flavors) and everyone commented how GREAT and moist they were. People all night kept going back for more trying to get a different one than they had before. They had the cake in our colors (white, black and silver) and did an amazing job with it. They came about an hour before the ceremony and set it up for us and it looked beautiful!!!!! We loved our cake!!!!! :)"
Terri Michelle – 5 Stars

"The cake was beautiful and very very delicious!! Loved it! I will definitely order from this bakery again!"
Debora – 5 Stars




Win free and discounted sweets!
Follow us on Facebook, Twitter, Instagram, Yelp, Youtube, Google to find out ways to enjoy your favorite Dolcery Desserts sweet free or at a discounted price.